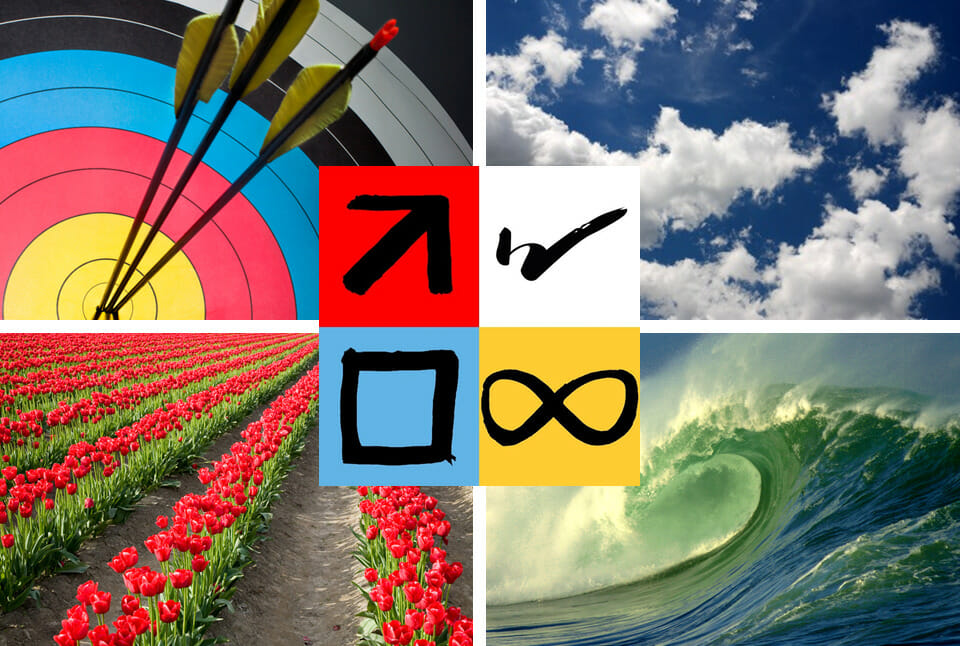 Discover your inner team of energy patterns and a powerful way to integrate your mind, body and everyday life
Nothing more readily returns you to feeling centered and energized than mindfulness in the body.
Imagine a way of understanding and working with yourself that helps you connect mind and body at all times. That's what we imagined learning about the four energy patterns of the nervous system and what we bring you in FEBI®, which measures them.
What will you learn?
How to access each of four energy patterns in any moment and when each is necessary
How to read the energies in people and situations around you so you can use the right energy at the right time
How to understand your personality preferences in terms of the patterns, and how they play into your strengths and weaknesses
How you can develop any pattern you'd like easier access to
How you can start using the energy patterns in your life and work.
How resolving the duality of mind and body can become a gateway to Zen training and resolving all dualities.
Who is it for?
Everyone! There are no prerequisities for this program. As prework, you'll take the FEBI®* and receive your results just prior to the 1st session.
*FEBI is a registered trademark of the Institute for Zen Leadership
How does it work:
Online, live, 2-part program
Each session is 2 hours and includes physical practices, small group and partner coaching.
The two sessions are separated by 2 weeks, giving time for observation and experimentation in between.
You'll come away with a well-vetted practice for strengthening a pattern that improves your life.
choose your Program Fee
When registering, you'll have the option to select the pricing level that fits your circumstances.
$129 – Scholarship rate (e.g., student, limited income, international low currency)
$199 – Supported rate (e.g., part-time or self-employed, non-profit)
$249 – Regular rate (e.g., full time, government or corporate)
$329 – Benefactor rate (e.g., able to contribute to support another)
A limited number of fuller scholarships may be available, usually linked with an opportunity to volunteer. We welcome a conversation to discuss how to make your participation possible. Contact us.
Register for an upcoming program below
There are no upcoming events at this time.
"… the ability to tap into and focus basic energy patterns of human existence is a tool I will use for the rest of my life."

Tom Gruenwald

Physicist and former CEO
"Finally, a tool and approach that makes intuitive, practical and theoretical sense. The energy patterns can be quickly grasped and easily applied."

David Dotlich

President of Pivot Leadership, a division of KornFerry
"I can say unequivocally that the energy patterns are a most powerful concept: simply elegant, elegantly simple. And it works!"

Rebecca Barna

Former publisher for Popular Science
You have questions. We have answers.
What if I register and then something comes up and I can't attend the program?
We'll be glad to roll your registration forward to a future program at the same price.
What if I miss part of the program?
Part of what makes our programs so strong is the sense of community in the cohort, so we encourage you to attend all sessions live. We do record the sessions, so if you miss a part, you'll have a chance to catch up.
What exactly is FEBI anyway?
FEBI is a validated measure of 4 patterns in your nervous system that link mind, body and behaviors and also map to the 4 dominant factors of personality. It will show you which patterns you prefer, and also how to access any pattern when it's needed.
I've taken personality tests before; how is FEBI different and how will it help me?
Only FEBI makes explicit links between how you show up in the world and patterns in your own body. Making that link is invaluable because once you make something physical, you make it trainable. Personality assessments will generally show your strengths and weaknesses yet can leave the false impression of being unchangeable. FEBI goes further to show that you have all four patterns and how to access any of them physically when you need them. This allows your strengths to remain strengths, not holes dug deeper.
Anyone committed to making a difference will benefit from this program. There are no course prerequisites.
Can I just learn about FEBI in other IZL programs?
Working with the four energy patterns and FEBI has been integrated into all of our IZL programs for years, however we've heard that people wanted an earlier and more thorough introduction to the patterns because they're just so darn useful, so we developed this course that can be taken before or after our foundational programs (ZL1, HEAL or Resonate) or standalone.