earn a certificate in zen leadership.
embody regenerative wisdom and create the future.
You know people are hurting, the planet is hurting,
Much has to be reimagined.
Yet the usual demands pull you this way and that;
The pace, the barriers, the endless to-do list can be exhausting.
How do you find the energy for your goals, for people, for
big change?
And add your greatest value?
Let this pathway put a fresh foundation in your life and leadership:
One that flips problems to opportunities;
Breaks through the fears and limitations of ego;
Serves others and the whole picture with the wisdom of connectedness.
The result is a more resonant you:
Living and leading on purpose;
Getting better results with freater resilience.
Who is it for?
You're a leader or change agent with care for people, planet and the future
You want to run your business or team with essential wisdom and purpose
You sense the times are changing and want to uplevel your leadership to be more regenerative and adaptable.
You haven't thought of yourself as a leader, but it's time you start
Join us on the extraordianry journey of Zen Leadership from your own home
Get started in one of these programs:
zen leader 1
Embody the basic flips of Zen Leadership from transforming problems to realizing a desired future.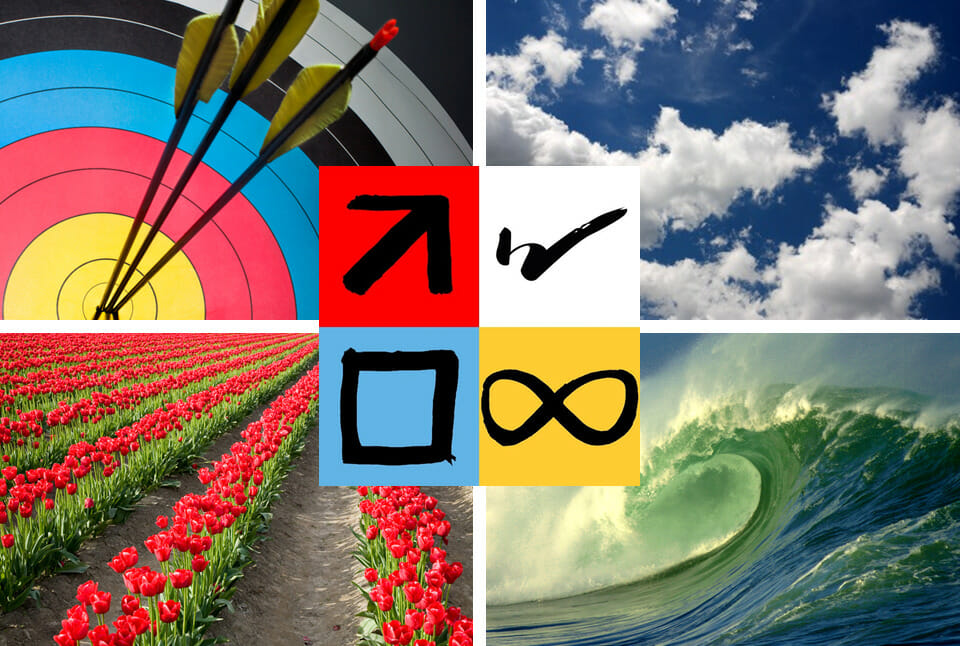 FEBI-4U
Explore your personality through 4 mind-body energy patterns and learn to access whichever serves best.
Subsequent courses can be taken in any order convenient for your schedule. Sign up for each individually or the pathway at a significant discount. Click on each program below to see what you'll learn.
What will you learn?
How to flip problems to opportunities
How to release tension and extend energy
How to reconcile seeming opposites or decide between right and right
How to center yourself and increase your power using hara
How to develop your concentration and self-regulation in meditation
How to know which of 4 energy patterns you favor and how to access weaker patterns
How to increase your influence
How to bring a desired future into the present
How to apply Zen leadership to a current challenge or opportunity
Formats:
Online, live, cohort-based program
Weekend version starts Thurs evening, runs through the weekend, and finishes Sun at lunch. Different sessions accommodate different time zones.
6-week version meets for 6 Saturdays, 2 hours most weeks and all day in week 5.
What will you learn?
How to recognize the 4 energy patterns in yourself, others and the world around you
How your home pattern and weak pattern have shaped major directions in your life
How to develop any pattern you'd like easier access to
How to use the right energy at the right time
How to apply the FEBI patterns to a situation or relationship in your life
Format:
Online, live, cohort-based program
2, 2-hour sessions with practice in between
What will you learn?
How to face into a self-limiting fear and increasingly free yourself
How to flip from useless outward judgments to productively working inner triggers
How habits work and can be reworked
How to leverage the neuroscience of "I" and "we"
How trauma distorts the present
How to take away fear
How each of the energy patterns gets into conflict and ways to move forward
How unfillable holes happen and what to do about them
How to lift and empower others
How to strengthen an important relationship in your life
Format:
Online, live, cohort-based program
Weekend starts Thurs evening, runs through weekend and finishes Sun at lunch
Different sessions accommodate different time zones
What will you learn?
How you limit yourself and how to stop doing it
How to embody a change you want to see
How to leverage the science of resonance and heart-brain coherence to create a desired future
How to work with the liberating and manifesting energy currents
How to apply a Zen Toolkit to a transformation project
How to support colleagues and be supported in your applied transformation project
How to flip from your local self to your whole self and how that changes everything
How to experience "host" and "guest" – the final flip of Zen Leadership
Format:
Online, live, cohort-based program
Weekend starts Thurs evening, runs through weekend, and finishes Sun at lunch
Different sessions accommodate different time zones
Add the coaching option?
Make your journey even more impactful with the assist of a Zen Leadership coach.
Why? You're seeing in new ways as you train in Zen Leadership. You're trying new practices, building new habits, and occasionally feeling uncomfortable, anxious and like you're failing – in other words you're learning! There's nothing like the accountability, support, personal attention, and insight that emerge through one-on-one coaching to help you stick to desired practices, overcome rough spots, and reach your goals.
Our Zen leadership coaches embody a depth of wisdom and experience that comes from years of meditation in addition to their leadership, industry, and coaching experience.
Add the coaching option (paid for separately) and accompany your journey with 3-6 sessions with one of our Zen Leadership coaches.
What you can expect
This certificate program includes 4 online programs – FEBI-4U, ZL1, ZL2, and ZL3 – which you can take within a period of 6 months or stretch out over 2-3 years, according to your schedule.
Between programs, you'll have opportunities to join community calls, as well as daily Zen training in the Chosei-Zen virtual dojo*. You'll discover that the combination of these programs and this interwoven deep, physical training allows your learning to be embodied so that essential wisdom increasingly functions through you.
CHOOSE YOUR FEE for the entire pathway
When registering, select the pricing level that fits your circumstances. When you register for a pathway, we honor your commitment with an additional discount over individually priced programs. These rates cover all 4 online programs.
$799 – Scholarship rate (e.g., student, limited income, international low currency)
$1299 – Supported rate (e.g., part-time or self-employed, non-profit)
$1799 – Regular rate (e.g., full time, government or corporate)
$2199 – Benefactor rate (e.g., able to contribute to support another)
After you register for ZL Practitioner Certification, we will contact you about which programs you want to enroll in this year. Please contact us with any questions or if you would like to set up a 3-part payment plan for this pathway.
*All Chosei Zen training and programs are offered on a donation basis
"Come find yourself and stand in the power of the world."

Florence Lasbennes

Partner, 4SD
"This is leadership for our future, for this planet, for the next generation and anyone who has an inclination for a peaceful world."

Nicki Murray

Meditation/Yoga Teacher
"This is not your typical leadership training. By working 'inside-out' you'll have the ability to change not just your challenges, but everything shifts and changes."

Amy Gonzales

VP Global Learning and Development, Women United
"This unique and extraordinary training gives you the tools and practices to lead and live with clarity, authenticity, and powerful resonance."

Sandra Niehaus

Human Experience Strategist