Resonate
Zen and the Way of Making a Difference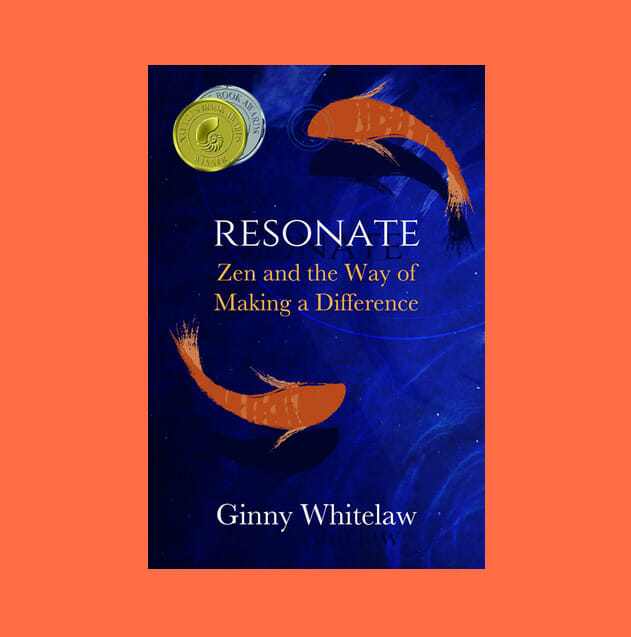 In a time of great noise, disruption and dysfunction, it can be hard to be heard or know how to make a difference. But master the principle underlying change and you can live your most significant, joyful, and resilient life. That principle is resonance and Resonate is your guide.
Through stories, examples and practices, you'll discover:
how resonance underlies all change
how you can become a more resonant being
how to apply resonance to better relationships, ideas, teams and even large-scale change.
How you resonate is how you make a difference. Make your greatest difference.
Want a sneak peek?
Download the first chapter of Resonate here.
"What a beautiful book: a simple but radical point of point of view, a generative interpretation of goodness and being change, as well as a practical way to embark on this journey."
Richard Strozzi Heckler, PhD
author of The Leadership Dojo and In Search of the Warrior Spirit
"A fascinating exploration of how we are all interconnected…Ginny Whitelaw ably guides us through accessible math and meditation, science and subjective experience, to feel the reality of our interdependent lives and how we might work together to bring positive change into our world."
Dan Siegel, MD
New York Times bestselling author, Aware and The Developing Mind
"Ginny Whitelaw is a master, a leader for life, someone who truly 'Leads the Way.' Get this book as your trail guide for purpose-driven awakening."
Kevin Cashman, Global Leader CEO & Executive Development, Korn Ferry, and bestselling author of Leadership from the Inside Out and The Pause Principle
"Whitelaw Roshi is a scientist at heart. She likes her Zen to be palpable and practical. So when she talks resonance, she doesn't open her mouth unless she is already resonating with all that surrounds her. You either feel it, and the lesson sinks in. Or you don't feel it, and go back to the Zazen cushion until you do."
Gordon Greene Roshi, Abbot Chosei Zen, Spring Green Dojo
"Ginny Whitelaw has lived her life helping people translate themselves into energy for others. This book reveals her journey, her philosophy and her practices. You will not be the same once you read it."
Stephen Rhinesmith, PhD, author of A Manager's Guide to Globalization
"This book would be remarkable simply for the way it makes the insights of physics and Zen accessible to the lay reader. Yet what is astonishing is how deftly Ginny Whitelaw shows us how to turn those insights into action…Step into Resonance. As she says, the times demand it."
Ed Bernard, former Vice Chairman T. Rowe Price
"In her latest groundbreaking book, Dr. Ginny Whitelaw explains the science of energy in terms we can all understand, and then shows us how to use resonance to improve the energy of our marriages, our workplaces, and even the world. Dear Change Agents, this is your book."
Rebecca Ryan, CEO, Futurist and author of ReGeneration
First Slide
A small river named Duden flows by their place and supplies it with the necessary regelialia.
Learn More
Second Slide
It is a paradisematic country, in which roasted parts of sentences fly into your mouth.