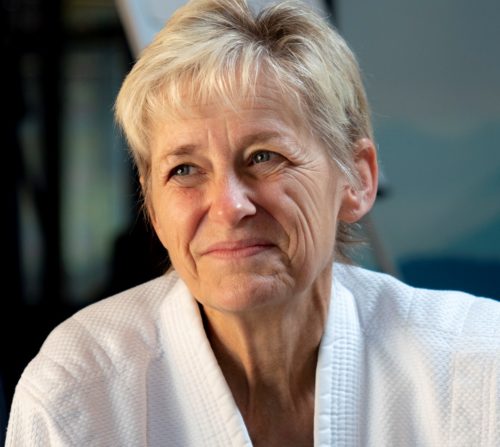 Dr. Ginny Whitelaw didn't dream she'd become an innovator in leadership development. She dreamt of being an astronaut, writing NASA when she was 13-years old to ask about the courses she should take in junior high school to best prepare. Treasuring the letter they sent back, she followed its advice to study science, which led to a degree in physics alongside three years working in a high-energy physics lab, a doctorate in biophysics, and a lifelong interest in energy and the human body.
Along the way she also started intense physical training, first in martial arts, and then in Zen, which led to a 5th degree black belt in Aikido, ordaining as a Zen priest (Jiko Myoki), and being named an 86th-generation Zen master in Rinzai Zen. She also found her way to NASA. There, she went into management, not space, eventually becoming the Deputy Manager for integrating the Space Station program, for which she received NASA's exceptional Service Medal. All of this came together in a new way, however, when she attended her first NASA leadership program and discovered, to her own surprise, that this was her work: to take leadership development beyond the head and integrate it with the deep, embodied training she knew from the dojo. Learning everything she could about leadership and coaching, she combined it with everything she knew from Zen, biophysics and the human body.
For more than 25 years, Dr. Whitelaw has been developing the whole leader in numerous Global1000 companies, non-profits, and executive education programs., including Merck, Novartis, HP, Dell, JNJ, Mercer, Hillrom, T Rowe Price, Bank of America, Big Thought, 1440 Multiversity and Columbia University. Together with Mark Kiefaber, she co-developed the FEBI®, a unique personality test linking mind, body and behaviors. In 2012, she founded the Institute for Zen Leadership, guiding leaders in how to increase their resonance and "flip" from coping to leading fearlessly. She continues to devote her energy to developing the next generation of Zen teachers and Zen leaders.
Ginny brings this body of experience together in Resonate (2020), building on her earlier books, The Zen Leader (2012), Move to Greatness (with Betsy Wetzig, 2008), and BodyLearning (1998). A sought-after speaker, Ginny has field tested the ideas and practices of Resonate to enthusiastic audiences, and continues to discover ways to help people resonate their most significant life.